Windows 10 offers certmgr.msc, a tool for managing the local certificate store. However, Windows 10 also offers a feature to disable the export of the private key (see below). With iSECPartners' jailbreak (GitHub) you can export it anyway.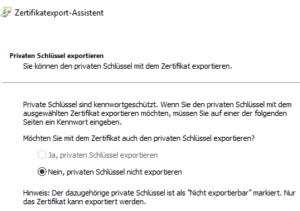 Export your private key
To allow the export of the private key, you have to download jailbreak first. iSECPartners do not offer any releases about the functionalities of GitHub. The binaries are checked in directly in the Git-Repository. You must either clone the repository or simply download it as a zip file (direct link for ZIP download). Now open a Windows shell and switch to the binaries directory from the repository. Now run the following command with the user under which the certificates are stored:
jailbreak64.exe %WINDIR%\system32\mmc.exe %WINDIR%\system32\certmgr.msc -64
Now the window of the certificate manager will open again. If you now try to export the certificate, the export of the private key is enabled: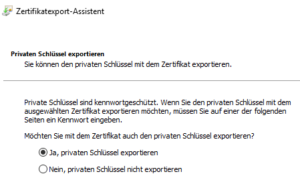 When exporting, you will receive a certificate that conforms to the PKCS #12 standard. You can now import it elsewhere.
Important: The file contains the public certificate and the corresponding private key. Therefore, it is extremely important to protect this file with a strong password while protecting it against unauthorized access (e.g.: restrict read rights).